Click to see Submenus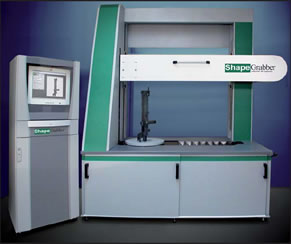 Company: ShapeGrabber
Address1: 1900 City Park Drive
Address2: Suite 304
City: Ottowa
State: ON
Country: Canada
Phone: (613) 247-1707
At ShapeGrabber, measuring complex shapes is our specialty. We design,
manufacture and sell industrial 3D laser scanner products that are ideal for
measuring complex shapes such as injection molded plastics and castings that
are otherwise too time consuming, costly, or difficult to measure.

ShapeGrabber's state-of-the-art inspection solutions are the next generation in
optical 3D measurement systems. Considered to be one of the industrial
pioneers in the field, ShapeGrabber has been supplying 3D scanners to
industrial customers for more than a decade.

Our 3D laser scanners are used by customers in the automotive, aerospace,
medical, and other industries for quality inspection, dimensional
troubleshooting, design and modeling.

ShapeGrabber systems require a fraction of the time and resources compared to
CMM systems while providing NIST-traceable full surface data of even the most
complex plastic injection molded parts, stampings, castings and more.

Our 3D scanners help manufacturers to dramatically reduce their inspection
costs, improve their product quality, rapidly conduct first-article inspection,
quickly troubleshoot fit problems, and provide documented proof that they are
meeting specifications.

ShapeGrabber systems are turnkey solutions that include all required hardware,
software, CAD workstation, installation, training, and a full year of support.
ShapeGrabber continues to pioneer innovation in 3D measurement, focusing on
ever-greater accuracy, system flexibility, ease of use, and speed.

The ShapeGrabber Ai810 automated inspection system is ideal for complex
shaped parts where speed, complete coverage and ease-of-use are important.
It can accommodate parts as small as a dime and as large as a small
refrigerator.

With the Ai810, automotive manufacturers who need to inspect injection
molded plastic and other complex-shaped parts can reduce inspection time and
greatly enhance part coverage, increasing customer satisfaction by reducing
defects and providing proof that specs are met.
Rapid and efficient inspection scans also reduce production equipment
downtime, material waste, and human inspection error.
Performs automated inspection in minutes as opposed to hours Integrates the acquisition, auto alignment and inspection process Offers GD&T reports Provides full 3D quality control Includes Go/No Go capability Compatible with a wide variety of materials and colors Works in all normal lighting conditions Creates digital inspection reports that can be saved and shared
Reduce inspection time by up to 95% (when compared with a CMM inspection) Improve production efficiency Reduce equipment downtime Reduce material waste Reduce human inspection error Increase customer retention by shipping fewer defects Increase customer satisfaction by providing proof that specs are met