Click to see Submenus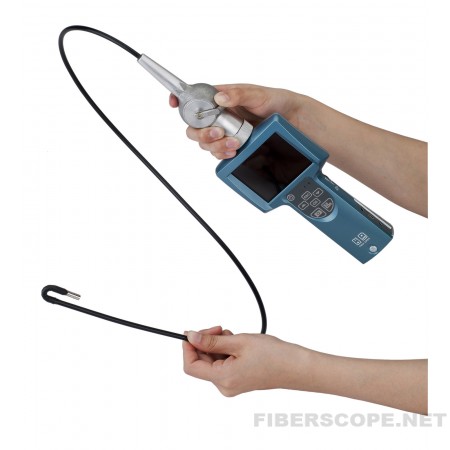 Rigel 360 degree 2-way Articulating Video Borescope
Company: Medit Inc
Address1: 96 Sherbrook St.
City: Winnipeg
State: Manitoba
Country: Canada
Phone: 18776132210
The Rigel Borescope puts precise visibility is in your hand,
with 2-way tip articulation and full circular rotation in
this versatile narrow video borescope.

The CMOS Video Camera chip (60 fps@AVGA), located in the
articulating tip of the scope, provides an excellent view of
the inspection area.

With 4 LED lights in the camera tip, illumination of dark
areas is not a concern. A simple button on the monitor
adjusts the light intensity for the best lighting for the
inspection, virtually eliminating over-lighting and glare
when inspecting reflective or metallic surfaces.

The 3.5" monitor provides you with bright, clear and
detailed images, making this multipurpose unit highly useful
for a wide range ofinspections. All live and stored images
are displayed in color on the integrated LCD screen with a
resolution of 720x480 pixels.

This unit features easy to use large ergonomic controls and
an intuitive operation. Its highly portable design has an
anti-shock construction, so it can travel with you anywhere.

Files are saved to an SD memory card that is included, and
captured images and video can be downloaded directly to a
computer or laptop via a USB cable. A video output jack can
transfer the live image to a larger TV monitor,
while a rechargeable LI-polymer battery provides up to 4
hours of continuous video capture on a full charge, and
requires only 2 hours to recharge.

Optional accessories include optional probe lengths of up to
3 meters and mirror tips for different angles of view, and
optional probe lengths of up to 3 meters.

Insertion probe • Diameter: 5.5mm (0.22") • Length: OPTIONAL 1M (3.3'), 2M (6.5'), 3M (9.8') • Articulation: 2-way , 180 degrees in each direction. 120 degrees for 3 meter probes in each direction • CMOS Image Sensor Resolution • Resolution 720(H)*480(V) • 67° Field of View (FOV) • 0°Direction of view • 1cm-8cm Focal range • Waterproof insertion tube only (IP57) • Light Source: 4-6 White LEDs Imaging Hub • 3.5"TFT LCD Monitor 320*240 Pixels • Interface: Mini usb 1.1/ AV out/ Av in/ • MPG4(saved as AVI) Compression Format • JPEG Still Image Storage Format • TV system: NTSC & PAL • Power:DC5V • Battery: Rechargeable Li-Polymer Battery (3.7V) • Language: 16 Languages