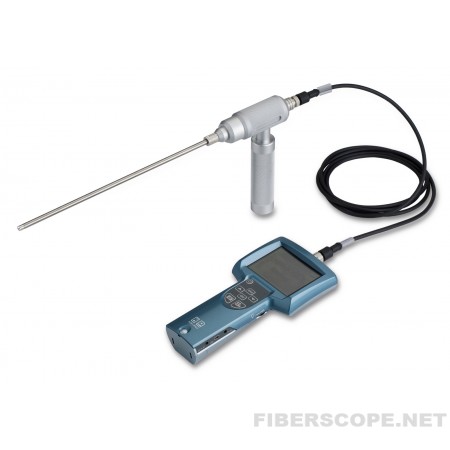 Heron Rigid Video Borescope
Company: Medit Inc
Contact: salesteam@meditinc.com
Address1: 96 Sherbrook St.
City: Winnipeg
State: Manitoba
Country: Canada
Phone: 18776132210
Medit's Heron Rigid Video Borescope comes with many
different options for probe length and type. This make for a
very versatile scope to meet various inspection needs. A
CMSO camera chip that provides a rich, clear color image
that is displayed on a 3.5" LED scrren. 4 LED lights are
controlled by a simple button. This portable scope is
waterproof and build to withstand the rigours or being
carried around to job sites. All images and videos are saved
to a SD memory card, and can be downloaded straight to a
computer with a usb cable. This unit also includes a TV jack
to allow images to be displayed on a TV screen.

Available options include the Heron-A with an articulated
tip. This feature is available in 30mm and 45mm lengths.
With a 67 degree view and a 1.0 cm depth of view any
inspection in tight quarters will be much more proficient.
With the 6mm diameter probe have 4 LED lights and the 8mm
diameter probe having 6 LED lights there will not be a
shortage of light to see your inspection clearly. The
working temperate ranges between -20 degrees C and 60
degrees C. The probe also comes standard with an ingress
protection of IP57. Option accessories are: guide ball,
magnet, 35~70 degree mirror tip, 45~90 degree mirror tip,
and 55~110 degree mirror tip.
Insertion probe • Diameter: 6.0mm • Length: 150 mm (5.9"), 300 mm (11.8"), 450 mm (17.7") and 700 mm (27.6") • No articulation • CMOS 300,000 pixels, 60 fps@AVGA • Resolution (Dynamic Static) : 720 x 480 pixels, Video 720 x 480 pixels (30 fps), • Field of View (FOV) : 67° • 0°Direction of view (DOV), Lens able to attached 35°~70° / 45°~90° / 55°~110° Mirror • 1.0cm to infinity Focal range • Ingress Protection: IP 57 • Light Source: 4 LED, Illumination LED light adjustable • Probe Working Temperature: -20° to 60° C Imaging Hub • 3.5"TFT LCD Monitor 320*240 Pixels • Interface: Mini usb 1.1/ AV out/ Av in/ • MPG4(saved as AVI) Compression Format • JPEG Still Image Storage Format • TV system: NTSC & PAL • Power:DC5V • Battery: Rechargeable Li-Polymer Battery (3.7V) • Language: 16 Languages