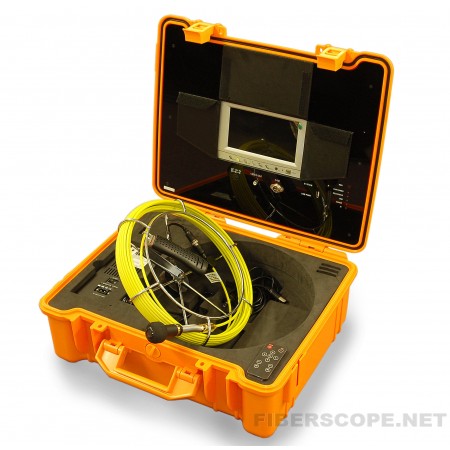 Viper Portable Push Camera
Company: Medit Inc
Contact: salesteam@meditinc.com
Address1: 96 Sherbrook St.
City: Winnipeg
State: Manitoba
Country: Canada
Phone: 18776132210
The viper portable push camera is an economical choice in
portable inspection equipment, as it is ideal for a wide
range of applications including inspecting ducts, pipes,
sewers, wells, inside wall cavities during contraction or
building inspections, etc.
The camera head has a high res CCD camera chip for the
capture of crisp, bright, clear color videos and images. The
sapphire lens is designed to resist scratching, and 8 LED
lights are built into the camera head to ensure adequate
illumination in all situations. The flexible spring joint
located behind the end allows the Viper to navigate
corners.
The 7" LCD monitor displays a crisp color picture of the
area being inspected. The videos and images are saved
directly onto a USB stick or an external hard drive in
compressed AVI format. This display and the controls are all
located in a portable waterproof plastic case for easy
transportation.



Insertion Probe • Length: 20M (65.6') or 40M (131.2') • Diameter: 36mm (1.4") • Color CCD camera with sapphire glass lens • No articulation • Fiberglass cable • 60° Field of View (FOV) • 0° Direction of view (DOV) • Waterproof design for portable use • Illumination: 8 white LEDs • Special gold point touch connector to camera Image Hub • 7" Color LCD monitor with Video output, file playback • Monitor Picture Resolution: 320 (TV Lines) • USB port to capture video to a flash drive, or hard drive • Recording format - AVI • IR remote control • Power adaptor: 110~240VAC, 12VDC/1800mA • Rechargeable battery for portable use up to 3.5 hours • Li-ion battery box (4400mAh) • System Operating Temperature: -20°to 120°F • Operating temperature - 20°F~ 120°F (- 28C°~ 50°C)