Click to see Submenus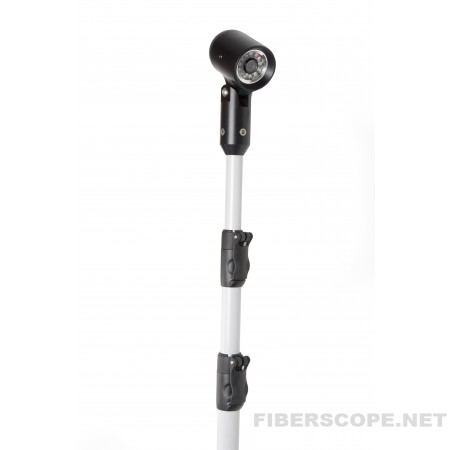 Cobra Retractable Pole Inspection Camera
Company: Medit Inc
Contact: salesteam@meditinc.com
Address1: 96 Sherbrook St.
City: Winnipeg
State: Manitoba
Country: Canada
Phone: 18776132210
The telescoping Cobra inspection camera is light weight and
built to access hard to reach areas above or below ground such
as wells, eaves troughs, attics, suspended ceilings or gutters
etc. The telescoping pole that adjusts from 1.6 to 4m had
built in IR LED lights to ensure proper lighting in any
situation.
The images captured by the camera are displayed on a TFT LCD
color monitorThe Cobra has a battery life of 3.5 hours in
bright areas and 3 hours in dark areas, and taking 2.25 hours
to fully recharge. . The unit has a weight of less than 2.7kg
and a 1.8m linking cable from the pole to the video display
making this a highly portable and easy to use unit in any
inspection situation.

Camera • Colour camera housing, Ψ 60mm (2.4in), L 95mm (3.7in) • Resolution 420 TV Lines • 1/3" Sony Super HAD CCD, PAL • Sensitivity 0.0 lux – LED's on • 850nm IR infra red LED's for low light viewing up to 10 metres(32.8ft) • IP 67 • Lens 3.6mm, giving a 68° field of view • Built in electronic iris which automatically compensates for daylight • Operating temperature -10 to +55°C Housing and Operation • The camera is housed in a durable acetal body • The camera housing is hinged at the base to allow multi positioning of the head • The camera mount is made from acetal which is permanently fixed to end of the telescopic pole • Tools supplied to permanently lock the camera in the operators desired position Extendable Pole • The total length of the pole closed is 1.63 metres (5.3ft) • The total length of the pole including camera is just over 4 metres (13.1ft) • The extendable pole is constructed from glass fibre, in 3 sections • The locking clamps are of polymer construction • Dual left handed or right handed lever • Strong locking force • All of the cables from the base of the pole to the camera are housed internally within the pole • The bottom of the pole is an acetal base with connector housing which has a built in 3 way connector Link Cable • Connects from the bottom connector housing to the monitor assembly • 1.85 metres in length (6.1ft) Monitor • 5" LCD TFT colour monitor, housed in carry case with built in sunshield and neck strap • Resolution 960 (H) x 234 (W) • Using the remote control or buttons on the front of the monitor, the picture can be inverted to allow above or below viewing. Batteries & Charger • A main battery with up to 3 hours continual use from full charge in complete darkness, and up to 3 ½ hours continual use in daylight (fitted to rear of carry case) • The batteries do not self discharge after storage and will retain 85% of their charge voltage • The batteries are SANYO, eneloop 2000mAh, NIMH low self discharge, fast charge 2 amps for 1 hour, over 1,000 cycles, 10 cells • A second same spec battery is also supplied • A battery charger is also supplied, 240V only (for USA only we would like to use RS494-2015 – EN60601, UL listed UL-2601-1)