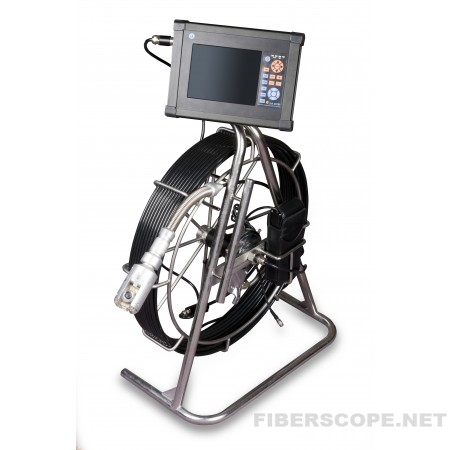 Anaconda Pan and Tilt Push Camera Videoscope
Company: Medit Inc
Contact: salesteam@meditinc.com
Address1: 96 Sherbrook St.
City: Winnipeg
State: Manitoba
Country: Canada
Phone: 1-877-613-2210
The Anaconda Pan-and-Tilt Push Camera Videoscope is a very
useful tool and a must have for the inspection of pipes,
ducts, tanks and many more applications.

The Anaconda comes with a camera head which pans 360⁰ and
tilts 180⁰ to records and document all the details of areas
being inspected.. The detachable camera head features a
compact (53mm) design which is waterproof and incorporates
14 super bright LED lights to provide consistent
illumination. To avoid flaring the light intensity can be
easily controlled, and the sensitive Sony CCD chip is
protected by a thick scratch-proof glass lens. The camera
head is centered in the pipe by a specifically designed
bracket skid. The push rod length rages from 30 meters
(98ft) to 80 meteres (262.5ft)

Records of the inspections are saved onto a SD memory card,
and can be output to another device via a USB interface. The
images from the camera head are show in real time on a 6.5"
color TFT screen. The battery pask provides 6 hours of
continuous use, and can be used while the battery is being
charges as well.

Camera > CCD Type SONY CCD > Horizontal resolution 480TVL > Diameter of the camera head 53mm > Pan &Tilt Pan: 360degrees; Tilt: 180degrees > Auto level: Auto > Focus Manual > Optical system: 2.8mm LED Lights > LED Lights: 14 LEDS > Brightness of the LEDS Controllable Display&Storage system > Size of the screen 6.5ТТ TFT Monitor > Brightness 500cd/m2 > Resolution 640*480 > Video format MPEG4/AVI > Picture format MPEG > Memory card 4G(optional to 8G) > USB interface USB output Cable > Length 30-80m(optional) > Diameter 7.6/8.5/11.5mm(optional) Bracket > Centering To make sure the camera is in the center of the pipe Power supply > Battery DC12V 13000mah > Working time Standby(LED off): 12hours; > In operation(LED on): 4hours