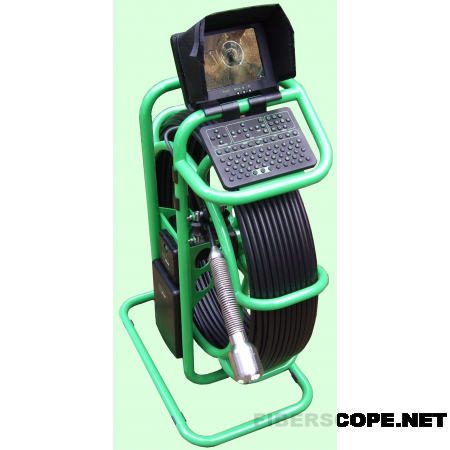 Trogoloprobe Portable Inspection System
Company: Medit Inc
Contact: salesteam@meditinc.com
Address1: 96 Sherbrook St.
City: Winnipeg
State: Manitoba
Country: Canada
Phone: 1-877-613-2210
The rugged Trogoloprobe is built for industrial pipe
inspections, and this push camera features a high end CCTV
camera at the end of a 60m push cable, with the option for 20m
extension. This unit weights in at 18.5kg, and has a battery
life of up to 8 hours on a single charge. This push camera is
completely waterproof for all weather use and has stainless
steel construction for durability. The camera head is auto
leveling and has built in LED lights to ensure a brightly lit
inspection area. Video can be viewed on 5.6" LCD monitor, or
on a TV screen using the video output options. Video is
recorded on a CF memory card in MPEG format for easy viewing
and editing on a computer.
Mechanical Dimensions • Length 540mm (21.3in) • Height 643mm (25.3in) • Width 302mm (11.9in) Weight • Base System 17.0kg (37.4lb) • Full System 18.5kg (40.8lb) Pushrod • Type 5 conductor Epoxy Glass Core • Max Length 60m Environmental Specification • Temperature -20°C to +85°C (Storage) • 0°C to +50°C (Operating) • Sealing IP 67 (Coiler) • IP 68 11 Bar (Camera) • Emissions (EMC) EN61000-6-4:2001 (Emissions) • EN61000-6-2:1999 (Immunity) Construction • Frame Powder Coated Steel • Housings Hard Anodised Aluminium Electrical • Supply Voltage 10.8 to 14.6v DC • Power Consumption 15 Watts • Power Cell 88 Watt-hour Li Ion • Video Standard PAL or NTSC (auto) • Display 5.6" LCD • Resolution 450 LPPH • Brightness 400cd/ft Digital Recorder (optional) • Recording format Digital to CF Card (MPEG4) • Recording capacity 60 mins per Gb • Recording resolution 640 x 480