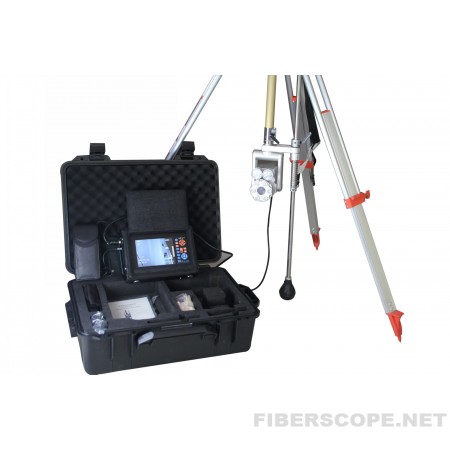 Company: Medit Inc
Contact: salesteam@meditinc.com
Address1: 96 Sherbrook St.
City: Winnipeg
State: Manitoba
Country: Canada
Phone: 18776132210
Cyclops is a water proof portable inspection camera designed
for inspecting manholes, tanks, pipes lines, and other remote
areas the camera would need to be lowered into. The built in
CCD camera has a powerful zoom feature to allow visualization
of areas up to 60m away from the camera, and dimmer controlled
LED lights allow the proper brightness to be achieved for any
distance. Videos and images are saved onto an SD card in
either MPEG or AVI format,and are also shown live on a 6.5"
TFT color monitor. The camera is on the end of a 6m or 12m
telescoping pole that is attached to a tripod for stability.
Insertion Probe > Length: 6meters(optional to 12meters) (Telescopic rod) > Tilt automatically Up30°; Down: 180° > Optical system 3.9-90mm > Zoom 26× optical; 12×digital > No articulation > View distance 100 meters > Detection distance 60 meters > 8 LEDS(Dimmer control) LED 1: 3pcs, 3*5W; LED 2: 3pcs, 3*5W; LED3: 2pcs, 2*10W Image Hub > 6.5'' TFT Color monitor > Monitor Picture Resolution: 640*480 > USB port > Recording format - MPEG4/AVI > Power adaptor: 110~240VAC, 12VDC > Rechargeable battery for portable use up to Standby(LED off): 12hours; In operation(LED on): 4hours > Battery box DC12V 13000mAh