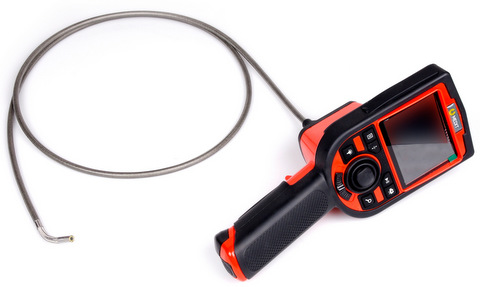 JT-ALPHA Joystick Type Video Borescope
Company: Medit Inc
Contact: salesteam@meditinc.com
Address1: 96 Sherbrook St.
City: Winnipeg
State: Manitoba
Country: Canada
Phone: 18776132210
The JT-Alpha features 4.5mm and 6.0 diameter probes with 4 way 90
degree
tip
articulation allowing a full 360 degree rotation for veiwing or to
help navigate corners. Stainless steel probe comes in 1.5m, and 3m
lengths.
The camera head is equipped with a CMOS camera chip and high
intensity LED lights to ensure a crisp well light video and
images. These are displayed on a full color TFT 3.5" TFT
montor on the base of the handheld unit. Video and images can
be saved directy to a SD card, or to a laptop, computer or
hard drive vie the USB port.
Insertion probe • Diameter: 4.5mm(0.177") / 6mm(0.24") • Length: 1.5m(5'), 3.0m (9.8') • 4-Way Articulation, Bending Angle 90° in each direction, over 360° combined • Imaging Sensor: CMOS • Resolution: 410,000 Pixels • 0°Direction of view • 15mm~infinity Focal Range • Stainless Steel Braided Insertion Probe • Light Source: White LED Imaging Hub • 3.5" TFT monitor • MPEG (AVI file extension), 640 x 480 pixels • JPEG, 640 x 480 pixels • USB Output • Rechargeable batteries for portable use, or AC power • Storage capacity: 8Gb SD card • Operating temperature: -10°C~50°C • Weight: 1.3 lbs.