Click to see Submenus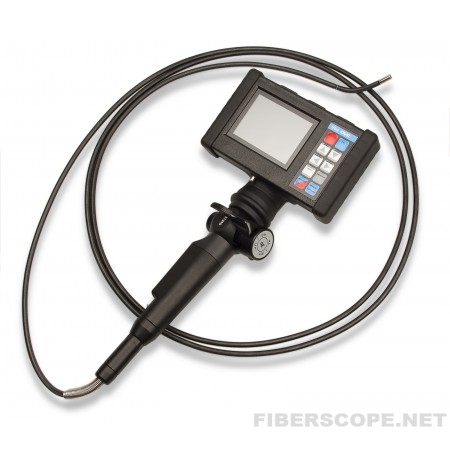 Iris Proline portable Video Borescope
Company: Medit Inc
Contact: salesteam@meditinc.com
Address1: 96 Sherbrook St.
City: Winnipeg
State: Manitoba
Country: Canada
Phone: 1-877-613-2210
The Iris Proline Videoscope is made with tungsten braided
probe, that comes in a diameters of Ψ 4mm (0.16"), 6mm
(0.24"), or 8mm (0.32"). This unit also features 4 way tip
articulation, and lengths from 1.5m to 7.5m. This probe is
connected to a 8.9cm high resolution VGA display monitor, that
rotates on the videoscope handle, allowing for easy viewing
during inspections. Bright LED lights are built into the
camera head to ensure a well lit inspection area, video and
images are captured by a Sony CCD camera, and saved onto a SD
memeory card. This light weight unit, 2.9lbs is compact and
highly portable.
Operating Unit • Display Size: 3,5" (8.9cm) TFT Color • Display Resolution: VGA (640x480 Pixel) • Operating System: Realtime operating System, with On- Screen-Menu • User Interface: Direct Action Keys, Function-Keys, Arrow- Keys • Languages: English, French, Spanish, Italian, German • Video interface: Composite Video-out • Power Supply, primary: re-chargeable Li-Ion-Battery (Charger is provided) • Power Supply, secondary: 12V Adapter Documentation • Video Format: AVI (.avi) • Image Format: BMP (.bmp) • Storage: SD-HC-Memory Card up to 32GB (FAT32) • Camera Control • Image Sensor: High-Resolution Color HYPER HAD CCD • Camera Control / Exposure: Integration modes: Automatic, Short, Long, Manual • White Balance: yes, factory default or user defined • AGC-Level: yes, adjustable • Gamma: yes, adjustable Image Control • Zoom: x3.5 (Digital) • Invert: horizontal and vertical Image Inversion • Brightness: yes, adjustable • Contrast: yes, adjustable • Color: yes, adjustable • Text Annotation: Built-in full screen text overlay generator Illumination • Type: High-Power White light-LED΄s with fiber optic light guides • Illumination Control: yes, 3-steps • Color Temperature: ca. 6500k • Average Lamp Lifetime: ca. 5000 hours Probe • Diameter: 4.0mm/ 6.0mm/ 8.0mm • Working Length: 4.9 - 13.1ft (1.5 - 4.0m)/ 4.9 -13.1ft (1.5 - 7.5m)/ 4.9 - 13.1ft (1.5 - 7.5m) • Articulation: 4-way (Control Levers)/ 4-way (Control Levers)/ 4-way (Control Levers) • Articulation Angle* L/R | U/D: 100°/100° | 100°/100°/ 100°/100° | 160°/130°/ 100°/100° | 160°/130° • Integrated Objective Lens: Yes/ No/ No • Interchangable Objective Lens: No/ Yes/ Yes • Side View Tip Adapter: No/ Yes/ Yes • Braid: Tungsten Braid or Poly-Urethane-Jacket Construction • Ergonomics: ± 90° rotatable Display Unit, alt. ±90° rotatable Scope Handle • System Weight: 2.97lb (1.35kg) Operating Unit • Dimensions: ??.? x ??.? x ??. in (???mm x ???mm x ???mm) • Housing: rugged PU, with integrated rubber shock caps • Frame: Alloy • Protection Class: IP53 Operating Environment • Tip Operating Temperature: +14°F to 176°F (-10°C bis +80°C) • System Operating Temperature: -13°F to 115°F (-25°C bis +45°C) • Storage Temperature: -13°F to 115°F (-25°C bis +45°C) • Relative Humidity: 95% max. – non-condensing • Waterproof: Probe and distal end up to 14,7 psi (1 bar- 10,2 m H2O) • Hazardous Environments: Not rated for use in hazardous environments • Interchangable Objective Lenses & SVTA Probe DOV FOV DOF 4,0mm 0° 60° 7-50mm 4,0mm 0° 60° 4-10mm 4,0mm 0° 90° 15mm 4,0mm 0° 90° 10-30mm 4,0mm ** 90° 60° 5-45mm 6,0mm 0° 60° 5mm 6,0mm 0° 90° 5mm 6,0mm ** 90° 60° 5-15mm 6,0mm ** 90° 60° 15-50mm 8,0mm 0° 28° 25mm 8,0mm 0° 60° 8mm 8,0mm 0° 60° 10mm 8,0mm 0° 90° 5mm 8,0mm 0° 90° 5mm 8,0mm ** 90° 60° 5mm DOV = Direction of View CF = Close Focus FOV = Field of View FF = Far Focus DOF = Depth of Focus B = Bright objective lens SVTA = Side View Tip Adapter ** Compatible to FOV60 °