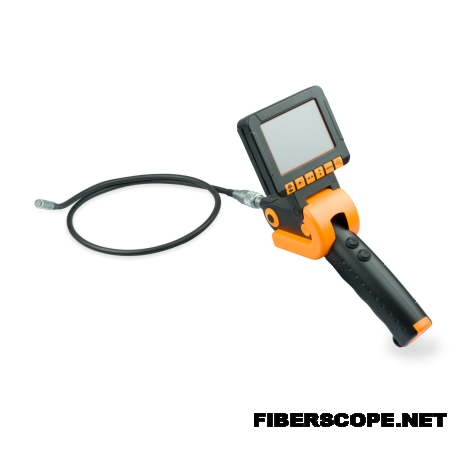 Company: Medit Inc
Contact: salesteam@meditinc.com
Address1: 96 Sherbrook St.
City: Winnipeg
State: Manitoba
Country: Canada
Phone: 1-877-613-2210
The Voyager is a cost effective option for standard
inspections. Available in 5.mm and 9.5mm diameters with a
built in CMOS camera chip at the tip. The flex and stay probes
come in 3 lengths (1,2 and 3 meters). Live images are shown on
a 3.5 LCD monitor on the handheld base of the probe. Images
and videos are recorded onto a SD memory card, or directly to
a laptop or other computer via USB cable, or displayed onto a
TV via video cables. This unit is powered by 4 AA batteries
and lasts up to 3 hours.
Insertion Probe • Diameters: 5.5mm (0.22") or 9.5mm(0.37") • Length: 1M(3.3'), 2M(6.5'), 3M(9.8') • No articulation • 1/5" or 1/6" CMOS chip • Resolution (Dynamic/static) 320x240/ 720x480 • 67° Field of View (FOV) • 0° Direction of view (DOV) • 2cm~ 28cm (0.8" – 11") Focal range • Waterproof probe only • 4 White LED (0~275 Lux/ 4cm) • Lightness manual adjustment way: Yes • Zoom: 5x Variable Digital Zoom Image Hub • 3.5" TFT LCD Monitor 320x 240 Pixels • Interface: Mini-usb 1.1/ AV out • Video storage format: AVI(320x240) • Image storage format: JPEG(720x480) • TV system: NTSC & PAL • Power: 4AA Alkaline type Batteries • Recording Format: SD Memory Card (Up to 32GB SDHC capacity) • Adjustable Hand piece: Monitor moves upright, or down to rest along the handle • Carry Case: 40 x 33x 12cm