Click to see Submenus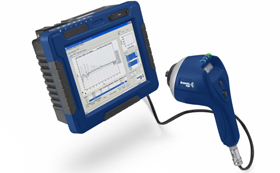 Company: AcousticEye
Address1: 5201 Great America Pkwy.
Address2: Suite 320
City: Santa Clara
State: CA
Country: USA
AcousticEye's breakthrough, non-invasive solution for today's hard-to-inspect
tubes up to 4" inner diameter enables ultra-fast, accurate inspection of boilers,
Fin Fans and other heat exchangers regardless of tube shape or material.

Featuring patented Acoustic Pulse Reflectometry (APR) technology, Dolphin G3
is an advanced, yet easy-to-use tool that overcomes the limitations of many
conventional inspection techniques. With its simple operation, automated
analysis and report generation, there is far less dependency on operator
expertise.

Providing reliable inspection of even the most challenging tube sizes and
configurations, AcousticEye increases inspection cycle efficiency and
operational cost savings.

Any tube size up to 4" diameter, regardless of shape, or material

Boilers, Fin Fans, other heat exchangers

U-bends, twisted, spiral wound and flexible tubes

Ferrous and non-ferrous metals, graphite and plastics

Ultra-fast, non-invasive inspection

Less than 10 seconds per tube

Fast enough for 100% inspection if/when needed

Ideal for emergency situations

No need for inventory of consumable probes

Less Expertise Required

Testing is easily performed by any operator with minimal training

Computer-based data interpretation and report generation
Acoustic Pulse Reflectometry Probe injects an acoustic pulse down the tube Returned echoes generated by defects are recorded and analyzed A set of proprietary, patented algorithms identifies and reports exact location, type and size of inner diameter defects Convenient Handheld Device The compact Dolphin G3™ handheld comprises the entire non-invasive probe assembly. This includes customized adaptors to fit tubes of any internal diameter up to 4", a transducer, microphone, controls and LCD screen. Inspection setup is performed via a connected external computer that also records and analyzes test data using specialized AcousticEye software. User-Friendly Operation Dolphin G3™ guides the technician through all the steps necessary to carry out a job - tube sheet mapping, parameter input, measurements, verification and report generation. An intuitive graphic user interface, including helpful right- click functions, makes scrolling, zooming and navigation easy every step of the way. Mapping: The system creates a computerized model of the heat exchanger tube sheet based on a photo, CAD file or scanned schematic diagram. Automatic numbering and mapping is used to establish test plans and track inspection progress. Logging: All measurements are logged in their raw form. Different thresholds and algorithms can be applied to regenerate reports with varying levels of sensitivity. One-click calibration: The system utilizes only a single calibration tube (supplied), eliminating inventory requirements and typical calibration challenges. Visual aids for defect detection: Programmable thresholds for different flaw types and sizes can be overlaid on the measured signals to assist in visual evaluation of defects. Computer-based interpretation: Delivering objective, consistent and actionable results, the system automatically performs computer-based data interpretation, reducing the reliance on experts. Report generation: Dolphin G3™ presents an easy-to-read online report (with drill down options) to the technician for verification, as well as a final summary report including tabular reporting and screenshots of the detected flaws in PDF or HTML format.