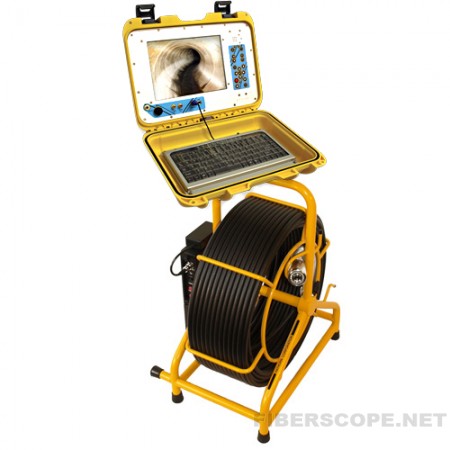 Triton Industrial Pipe Inspection Camera
Company: Fiberscope.net
Contact: Terry Peristerakis
Address1: 96 Sherbrook St.
City: Winnipeg
State: Manitoba
Country: Canada
Phone: 1-204-977-4634
The Triton heavy duty pipe inspection camera is made up of a
mini reel that comes in lengths up to 200ft. This push rod
is made with a kevlar braided probe to stand up to rugged
industrial use. The probe is 7/8" in diameter, and the built
in camera chip and LED lights are protected by a sapphire
glass lens. The probe also has a built in 512Hx sonde so
that the camera head's position can be exactly located
using a 512Hz sonde locator during inspections.

The base of the unit has a 10.4" color screen to watch the
live feed of inspections, the screen also displays a counter
of how much probe has been inserted during an inspection.
Vidoe, images and text can be saved directly to a USB drive,
Ipod, or Ipad. The base also controls the LED lights to
ensure
proper lighting, and the rechargeable battery.
• Audio and Video Out Jacks • 10.4" Daylight Readable Monitor • Click Touch Controls • Record to USB Drive • One Touch Recording with Pause Key • Mpeg Format • 16 Pages of Text Writting with Memory Saves • On Screen Footage Counter • Adjustable Lighting Controls • Voice Over Recording (Built In) • Rename Files on Stick After Recorded • 512Hz Sonde • 2 Hour Battery with Built In Charger • 200ft 3/8" Kevlar Braided Push Rod • 512hz Transmitter Coil • 2" P-Traps and Up • Self Leveling Camera Available • Slip Brake Handle • Drum Size 16.5"X 5" • Reel Height 24"