Click to see Submenus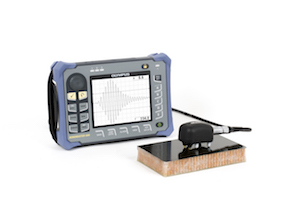 BondMaster® 600 Multimode Bond Tester
Company: Olympus
The BondMaster® 600 bond tester combines multiple mode bond testing software and highly advanced digital electronics, providing consistently crisp and high-quality signals. Inspectors can utilize a range of standard inspection methods, including pitch-catch RF, pitch-catch impulse, pitch-catch swept, resonance, as well as an improved mechanical impedance analysis (MIA) method.
Whether you are inspecting honeycomb composite, metal-to-metal bonds, or laminate composite, the BondMaster 600 bond tester is easy to use thanks to direct-access keys and a streamlined interface with convenient presets for common applications. The BondMaster bond tester's full-screen mode makes full use of the 5.7-inch screen. No matter the display mode or inspection method, simply touch a button to activate the full-screen mode. The device's ergonomic design is convenient for difficult-to-access inspection locations. For inspection in tight spaces, the hand strap provides maximum comfort while maintaining access to the most critical functions.
The BondMaster 600 bond tester's rugged design, airtight and water-resistant enclosure, high-friction bumpers, and long battery life enable the device to handle tough inspections in challenging environments. Other features include:
• Designed to meet the requirements of IP66.
• Long battery life (up to 9 hours).
• Compatible with existing BondMaster probes (PowerLink) and probes from other manufacturers.
• Bright, 5.7-inch color VGA display.
• Full-screen option in any display mode.
• Intuitive interface with application-specific presets.
• Instant display mode toggle using the RUN key.
• New SCAN view (profile).
• New SPECTRUM view and Frequency Tracking feature.
• Direct-access key gain adjustment.
• All-Settings configuration page screen.
• Up to two real-time readings.
• Storage capacity of up to 500 files (program and data).
• Onboard file preview.