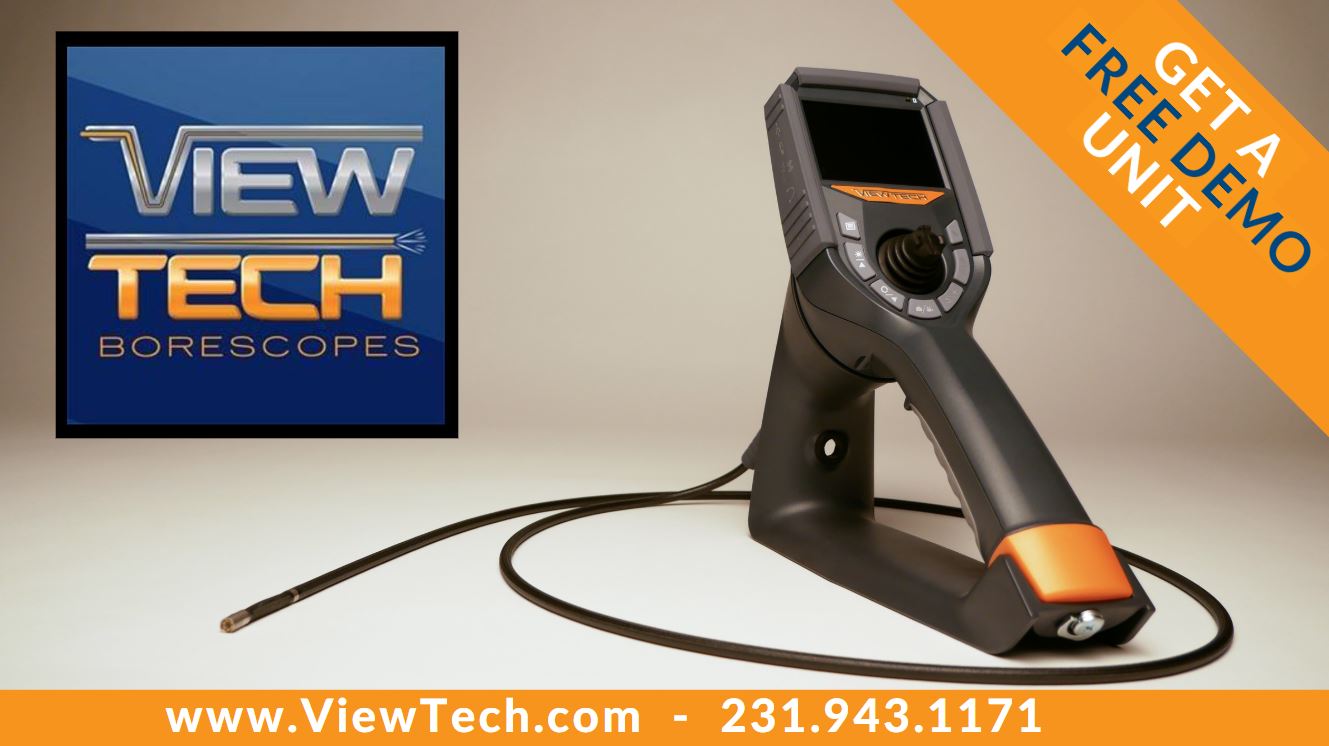 VJ-3 Mechanical Articulating Video Borescopes
Company: ViewTech Borescopes
Address1: 1745 Barlow St
City: Traverse City
State: MI
Country: USA
Phone: 231-943-1171
ViewTech Borescopes is North America's top borescope company. The VJ-3 mechanical articulating video borescope is a nondestructive visual testing instrument used for the remote visual inspection of machinery, equipment and components. The VJ-3 is a high-quality videoscope inspection camera available at a price that makes it accessible to almost everyone

The VJ-3 facilitates the visual recording and photo documentation of an inspection of parts and areas that are otherwise inaccessible or require great effort and expense to access directly. The VJ-3 consists of two modules integrated into one system: the insertion tube (available in a variety lengths and widths) with distally mounted camera/ LEDs, and the base unit with control panel, LCD monitor, power source and all necessary circuitry.

The VJ-3 fully-articulating video borescope comes in diameters of 2.2mm, 2.8mm, 3.9mm, or 6.0mm and in lengths ranging from 1.0m to 8.0m in order to complete any inspection.

Contact our video borescope experts and we will send you a no-cost, no-obligation demo borescope to try at your facility. 
 
• 4-Way, 360 Degree Joystick Articulation • Pistol Grip Design • LCD Monitor • 2.2mm, 2.8mm, 3.9mm, or 6.9mm Diameter • Insertion Tube Lengths Range From 1.0 To 8.0 Meters • Image and Video Capture • Variable LED Illumination • Removable Micro SD Card • Dual Camera, Far Focus, Ultraviolet, and Infrared Options • And Much More For Less!
• Ultra-Portable Design • Lightweight • Tungsten-Braided Insertion Tube • Removeable Base • Distal Tip Holder • Direct Response Articulation • Record Inspections For Future Reference • Complete Inspections Without Having To Dismantle Equipment • Save Time On Expensive Teardowns • High-Quality Videoscope Inspection Camera at a Price That Makes It Accessible to Almost Everyone