Click to see Submenus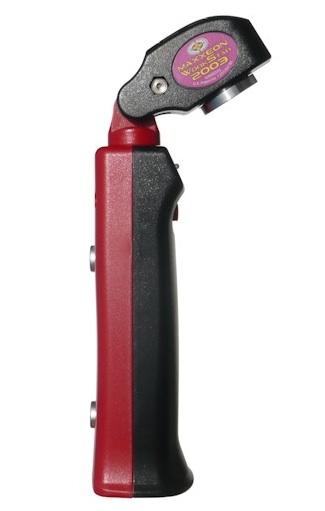 Portable UV Inspection Light for NDT
Company: Maxxeon Inc.
Contact: John Schira
Address1: 15901 Industrial Parkway
City: Cleveland
State: Ohio
Country: USA
Phone: 877-621-0005
Fax: 519-620-2011
The rugged MAXXEON WorkStar® 2003 NDT 365 nm UV Inspection
Light is designed for daily NDT (Non-Destructive
Testing) of metal parts and castings by technicians in a
demanding inspection, manufacturing, industrial and
maintenance environments. Weighing only 1 pound, the cordless,
rechargeable light is very compact and is the ultimate
portable UV inspection light. It uses the very latest high
power UV LED technology to generate a bigger brighter beam,
making your inspection job faster and more accurately.

• UV light exceeds ASTM E2297 requirements of 10,000 µW/cm² at 15 inches, with a maximum of 13,000 µW/cm² • Instant on – no waiting for the light to warm-up • LED light source life expectancy is 25,000+ hours • LED light source is virtually unbreakable • Cordless, rechargeable functionality, no 120 volt power source needed • Compact and light in weight for great portability • Movable light head lets you direct the beam in the most effective manner • Magnetic mounting capability lets you attach the tool to any ferrous surface • Retractable hook for suspending, allowing hands-free operation • Two level power selection provides a run time of up to 10 hours • Removable belt clip makes it easy to carry with you for off-site inspections • Tripod mount capability
• UV light exceeds ASTM E2297 requirements of 10,000 µW/cm² at 15 inches, with a maximum of 13,000 µW/cm² • Instant on – no waiting for the light to warm-up • LED light source life expectancy is 25,000+ hours • LED light source is virtually unbreakable • Cordless, rechargeable functionality, no 120 volt power source needed • Compact and light in weight for great portability • Movable light head lets you direct the beam in the most effective manner • Magnetic mounting capability lets you attach the tool to any ferrous surface • Retractable hook for suspending, allowing hands-free operation • Two level power selection provides a run time of up to 10 hours • Removable belt clip makes it easy to carry with you for off-site inspections • Tripod mount capability WorkStar® 2003 Other Applications • Locating leaks in air conditioning, coolant and hydraulic systems by fluorescing the dye in the system • Locating leaks in filters in bag plant operations by fluorescing the UV reflective particles • Curing of many types of adhesives • Forensics - crime site investigation • Counterfeit detection • Organic / Inorganic substance detection in hospitals, restaurants and other institutions