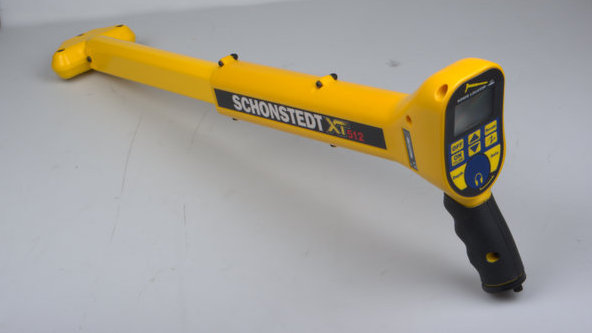 Detection Wand XT512 Portable Locator
Company: Medit Inc.
Contact: Oleg Zuev
City: Winnipeg
State: Manitoba
Country: Canada
Phone: 1-877-613-2210
Fax: 1-888-686-8660
The world's most portable inspection camera locator
featuring 512Hz precision.
The portable, digital locator boasts a lightweight, yet
sturdy body, compact size, and one button depth
measurement. The locator operates on the popular 512Hz
frequency mode. Typically, the locator permits to read
depths up to 2.5 meter depending on the strength of
signal. The locator is equipped with an LCD display
panel, which produces a clear digital readout. It also
features as a graphic display and an audible tone.
The "Detection Wand" XT512 digital locator is faster and
far more precise than analog locators. Additional
accessories such as a standard headset, noise cancelling
headphones and different frequencies beacons are
available with the wand. All this coupled with a special
extended 3-year warranty makes the locator a perfect
choice for any pipeline or sewer inspection.
The "Detection Wand" XT512 portable locator is an ideal
addition for the sonde equipped Trogloprobe or Viper-S
pipe Inspection Camera System.

Common Battery: 9V Alkaline Battery Batter Life: 12 hours of intermittent use Audio Output: 10 - 1400Hz determined by signal strength 0 - 70db SPL (Sound Pressure Level), volume controlled Weight: Under 2.8 lbs Operating Temp: -4°F to 140°F (-20°C to 70°C) Overal Dimensions: Closed: 17.5 in x 3 in x 8.5 in (44 cm x 7.6 cm x 21.5 cm) Extended: 27.7 in x 3 in x 8.5 in (70 cm x 7.6 cm x 21.5 cm) Sensors: Split angled sensors to derive peak and null signals Sonde/Camera Locator Operating Frequency: 512Hz Modulation: none Max. Depth Capability: Typically 5-8 feet (1.5-2.5 m) depending on signal strength emitted by the sonde Passive Cable Locator Operating Frequency: 60 or 50 Hz, factory set Modulation: none Max. Depth Capability: Typical 5-8 feet (1.5-2.5 m) depending on signal strength emitted by the sonde