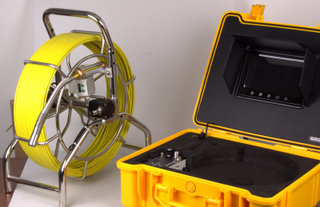 Viper ADV Pipe Inspection Camera
Company: Medit Inc.
Contact: Oleg Zuev
Address1: Unit 202-96 Sherbrook Street
City: Winnipeg
Country: Canada
Phone: 1-877-613-2210
Fax: 1-888-686-8660
Viper ADV Pipe Inspection Camera is a great inspection
device with enhanced maneuverability and viewing
characteristics. This advanced inspection camera is an
awesome device, well suited for exploring ducts,
pipelines, mains and sewers.
The unit consists of 3 main parts: a camera head, a push
rod and an LCD monitor. The 9'' monitor is protected by
an adjustable sun hood from direct sun allowing for
efficient outdoor inspections even in bright daylight.
The objective is shielded by a Sapphire lens to prevent
scratching and image impairment. The inspection can be
viewed in a live mode on the monitor or can be stored as
image/video on an SD card.
The Pipe Inspection Camera comes with a PVC coated
fiberglass 6.5mm push rod and is available in two
different sizes of 40 meter (131.2') and 60 meter
(196.8'). The push rod comes on a solid stand-alone reel
which take little space and is easy to transport. This
model also has a longer flexible spring coiled join to
navigate corners for more detailed inspections results.

CAMERA HEAD - 1" Color CCD camera with a Sapphire glass lens PUSH ROD - Special gold point touch connector to camera 6.5mm diameter Fiberglass cable CABLE LENGTH : 40 meter (131.2') and 60 meter (196.8') DVR with LCD Monitor - 9" TFT COLOR monitor Picture Resolution:480(TV Lines) POWER SUPPLY - Charge Adapter :110~240VAC , 12.6VDC /1000mA (included.) DIMENSIONS: Control Box Case size 45.5cm x 37cm x 18.5cm Camera Ø23mm x 30.5mm Cable Reel 46X27X56cm Resolution High Resolution: 720x480 Compression format M-JEPG & Standard JPEG
* Great maneuverability and viewing characteristics * Ø 23mm (1.0") Camera Head * 12 super bright white LED lights * High-resolution color CCD chip * Optional Built-in 512Hz frequency sonde * Push rod diameter – 6.5mm * Working Length – 40 meter (131.2') and 60 meter (196.8') * 9" TFT LCD display in a Waterproof Case * Image (JPEG )/Video (AVI) file capture * Video output to a TV monitor * Files capture to a SD memory card