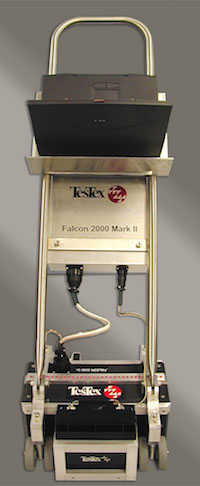 Company: TesTex Inc.
Contact: Info@testex-ndt.com
Address1: 535 Old Frankstown rd
City: Pittsburgh
State: PA
Country: USA
Phone: 412-798-8990
Fax: 412-798-8995
The TesTex Falcon Mark II LFET Above Ground Storage Tank Floor Scanning System uses the Low Frequency Electromagnetic Technique (LFET) to quickly and accurately inspect ferrous, above-ground storage tank floors.

The Falcon Mark II has many accessory packages available based on your inspection needs. In addition, Falcons complement other products like our Hawkeye system, which inspects welds, to provide comprehensive tank inspection solutions and UT or LFET crawlers for tank wall and roof inspections.
16-32 pickup channels depending on type: Senior or Jr. Uses Low Frequency Electromagnetic Technique for quick scanning. Light weight and easy to use. Software package including Acquisition and Tank Floor Mapping.
No permanent magnets unlike MFL, so it's more light weight. Minimal Floor preparation needed. Continue to show flaw signals after unit has stopped moving Real time data acquisition. LED indicators on the scanner shows when the scanner is over a flaw.