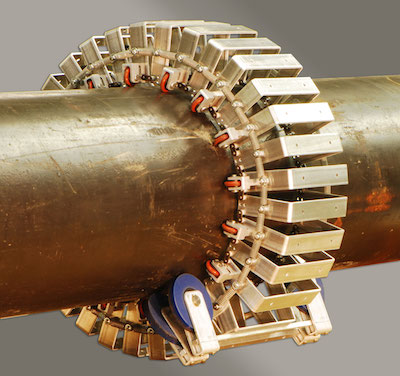 Line CAT (Pipeline Corrosion Assessment tool)
Company: TesTex Inc.
Contact: Info@testex-ndt.com
Address1: 535 Old Frankstown rd
City: Pittsburgh
State: PA
Country: USA
Phone: 412-798-8990
Fax: 412-798-8995
Using the Low Frequency Electromagnetic Technique (LFET), the lightweight, aluminum, TesTex Line CAT quickly and accurately scans the outer diameter (OD) of ferrous and nonferrous pipes and detects gradual wall loss, pitting, gouging, and other defects.

The Line CAT comes in many variations, and with its modular design, featuring many interchangeable parts and components, the versatile Line CAT can be quickly adapted to fit many pipes starting from 3 inches (For those pipes less than ten (10) inches in diameter, the Line CAT performs 360° scanning. For larger pipes, it scans 120°, or one-third of the circumference, with each pass. Its can also be outfitted with an optional encoder.)
Array of pod sensors that can be interchanged Minimal surface preparation Speeds up to 10ft per minute Widows based software Can be outfitted with distance encoder
Allows for quicker inspection of pipelines than A.U.T. and EMAT because surface preparation for the LFET (Low Frequency Electromagnetic Technique) is minimal. Scanner pods can be removed/ replaced quickly for different diameter pipes.