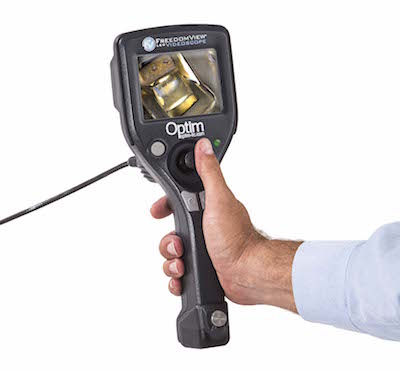 FreedomView LED Videoscope
Company: Optim LLC
Contact: Anna Melander
Address1: 64 Technology Park Road
City: Sturbridge
State: MA
Country: USA
Phone: 508-347-5100
Fax: 508-347-2380
Remote visual inspection doesn't have to be complicated and costly. Experience the compact FreedomView® LED Videoscope from Optim LLC with its patented, integrated LED light source. The FV Videoscope's sleek design offers greater flexibility, while providing exceptional light quality and visual clarity so you can perform a wide range of non-intrusive, non-destructive visual inspection tasks virtually anywhere, quickly and easily.

Priced with your budget needs in mind, the FV Videoscope puts the most challenging inspections within your reach, in seconds.

The FV Videoscope offers a durable and intuitive design made for real world conditions: • 6.0mm x 80" tungsten insertion shaft • Transflective touchscreen display • Single hand operation • Easy to use control functions • Lightweight – approx. 2lbs. • 360° Joystick control with 110° articulating tip • 6 hour rechargeable battery life • Adjustable light intensity controls • Integrated zoom • Captures still images and streaming video • Made in the U.S.A.
Allows for quick and easy access to hard to reach areas.