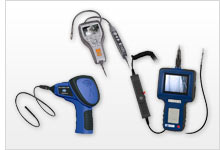 Company: PCE Americas Inc
Contact: David Durrenberg
Address1: 1201 Jupiter Park Dr
Address2: Suite 8
City: Jupiter
State: FL
Country: United States
Phone: 561-320-9162
Fax: 561-320-9176
By using PCE Instruments' borescopes for machine condition monitoring, manufacturers can identify changes indicative of a machine fault and take corrective action prior to critical machine failure.
PCE Instruments offers a variety of equipment for machine condition monitoring and nondestructive testing (NDT), including affordable, high-resolution borescopes for the visual inspection of engines, turbines, gears, bearings and other internal components.
For example, PCE-VE 200 offers an image resolution of 1600 x 1200 pixels and a video resolution of 640 x 480 pixels. PCE-VE 650 features a detachable 3.5-inch LCD display, a rotating camera head (±90 degrees) with five lighting levels, and nearly 5 feet of cable.