Click to see Submenus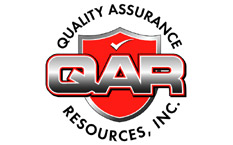 Inspection and Engineering Services
Company: Quality Assurance Resources, Inc.
Contact: Sean Lavergne
Address1: 10164 Shepard Hill Rd.
City: Willis
State: TX
Country: USA
Phone: 936-344-6510
Fax: 866-388-0918
QAR is a full service engineering and inspection company that provides project management, engineering, quality assurance, nondestructive testing, etc. to the upstream and downstream oil and gas industry, papermills, power industry, ships, bridges, buildings, municipal, transportation, etc.
Quality Assurance Resources, Inc. (QAR) has world-class expertise in a full range of quality assurance, engineering and other science disciplines. We strive to provide innovative, efficient solutions tailored to meet our clients needs. Whether your project is simple or complex, several things that set QAR apart from our competitors is the extent and accessibility of our technical resources and support services, use of state of the art equipment, and our proactive approach to be on the leading edge of technology. Our seamless nationwide network of technical, engineering, scientific, quality assurance and information management resources is available to every client and the QAR project team.
QAR can develop, implement and manage aspects of your quality program or work closely with your team to assure that all project requirement and objectives are met. QAR personnel assure that our clients products meet codes and standards and are fit-for-purpose. This beneficially reduces risk for unexpected loss of production, reduces the risk of project scope creep, delays, and cost overruns. Our clients consistently perceive our services to be an essential asset, and our reporting is second-to-none. With measurable results to help you achieve your desired goals, QAR should be your asset for independent inspection, expediting, quality control, engineering, project management, and program development, implementation and management. Our goal is to fulfill your quality needs whether being a simple evaluation or to the core of developing, implementing and managing your total quality management system.