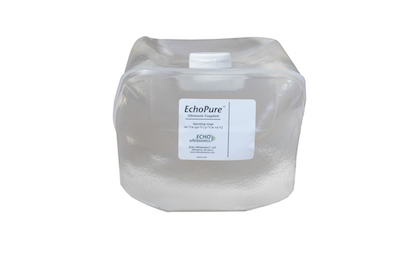 Company: Echo Ultrasonics LLC
Contact: Marian Larson
Address1: 774 Marine Drive
City: Bellingham
State: WA
Country: USA
Phone: 360-671-9121
Fax: 360-671-9024
EchoPure is an ideal couplant for very cold inspection (liquid gas piping and refrigerant lines and very cold ambient). EchoPure will not frost or attenuate at temperatures as low as -60°F.

EchoPure is excellent for high temperature use such as warm welds up to 350°F and on pipe in the desert summer sun, where slow evaporation and long inspection windows are desired. With its low toxicity, EchoPure is a good choice for inspection in food processing plants.

EchoPure is a water-free, water-soluble ultrasonic couplant that has a broad operating range, is slow drying and provides excellent transducer lubrication.
- Operating Range -60°F to 350°F (-51°C to 176°C) - Four viscosities, fluid, low, medium and high - Environmental and operator friendly - Safe: all ingredients are approved for incidental food contact - Slow drying - Water Soluble - Excellent acoustic properties - Compatible with most metals, composites and plastics - Mild ferrous corrosion inhibition