Click to see Submenus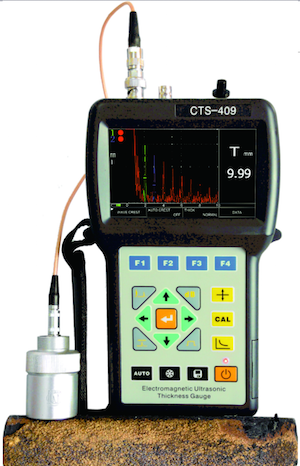 Electromagnetic Ultrasonic Thickness Gauge CTS-409
Company: Guangdong Goworld Co., Ltd.
Contact: Kevin Huang
Address1: 21 Xingye Rd., Shantou, Guangdong, China
City: Shantou
State: Guangdong
Country: China
Phone: +86 13502952062
CTS-409 is a portable electromagnetic ultrasonic (abbr. as "EMAT") thickness gauge newly launched by Goworld for the purpose of working on any metal or magnetic materials under couplant-less conditions, without direct contact onto them. Impervious to surface of the object, it is applicable to those with rough surface, coating(paint or rust)or away by air gap, saving efforts to clean off these intransaudient layers.

Features

I.Gauge results with high precision (up to 0.01mm), not subject to any posture of the probe

II.Couplant-free, easy to handle, probe with ant-wear front as hard as 80D+HS

III.Impervious to oxide coatings or paints on rough objects; skip-and-reach manner of gauging

IV.Applicable to high T.A.(max.380¡ãC at advanced version, and 600¡ãC within 4s, a heat-proof handle incl. in standard kit); applicable to carbon steel, copper and stainless steel.

V.Time-Based B-scan, 3s lasting for each step forward, and all the thickness values on the contour can be checked after the scan

VI.RS-485 BUS networking, GPRS wireless COM and short message service (SMS) as optional functions

VII.Extra accessories like linear scanner, multi-oriented scanner for smooth moving on rough surface; elevator for probe protection , heat-proof cable and handle prepared for the users to work under high ambiance temperature. Take-along Combo such as sheath, grip belt, and sling guarantee safety and convenience for the users especially working aloft (higher up in the air).