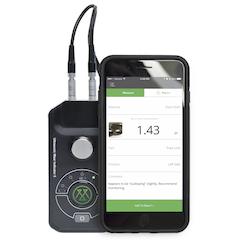 Wear Measurent Device (Ultrasonic)
Company: Modustri
Contact: Jim Mullen
Address1: 35 Oakes St SW
City: Grand Rapids
State: MI
Country: USA
Phone: 1-886-266-0950
Modustri (modustri.com) has developed an Ultrasonic depth gauge that connects directly to an iPad iPhone through Bluetooth. By steaming all of your measurement data directly to your iPad or iPhone, it enables you to capture measurements, notes, and photos all in one spot! It then automatically generates a report that you are able to send back to customer, or site managers.

Modustri has already used this technology to develop inspection applications with Corporate partners to create company specific inspection apps that include wear charts ad percent worn for each component.
Wear Measurement Device - Takes Ultrasonic Measurements - Streams Measurements Directly to iPad or iPhone Ultra-Inspect App (Free On the App Store): - Download through ultra-inspect.com - Photo Capture - Recording Notes - Recording Ultrasonic Measurements Modustri: - Works with Corporate Partners to create Industry specific Inspection Apps - Can create cloud based backend for companies to store and view historical inspection data.
Software/Hardware Benefits: - Reduces Number of Touch-Points for Wholistic Inspection - Automated report creation saves inspectors time, and provides faster turn around time for information to customers or management. - Cloud-Based Capabilities enable historical data storage, and record keeping. - Enables white label application and individualized reporting.