Click to see Submenus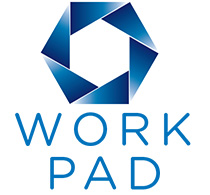 Company: Workpad LLC
Address1: PO Box 1609
City: Mt. Pleasant
State: SC
Country: United States
Phone: (888) 278-8804
Workpad, built for NDT, provides easy and secure cloud sharing of large videos, files, and images. Upload videos or images from any device, and they are automatically converted into streaming format so anyone can easily stream high resolution video to their desktop, mobile, or tablet. Hosted in US, EU, SA or APAC data centers, Workpad delivers global solutions and multi-language support.

Workpad is the leader in NDT data automation, successfully helping clients automated data workflows for inspection, medical, and diagnostic devices.

Automation
Tight integration with the Nubitus Cloud Key from Amotus allows legacy equipment to automatically upload images, files, and data to the cloud with no user intervention. Available integrations with Sonatest, Olympus, Danatronic, Zetec, and GE equipment automates your data work flows and provides seemless, end-to-end reporting for most any NDT inspection equipment and crews.

Built for Video
Workpad is the only IoT platform which provides end-to-end solutions for streaming video and large images. Consumer grade collaboration tools are not designed for streaming high resolution video or storing very large files. With Workpad both humans and devices can upload to the cloud and click to stream downloads from any device, with no software to install. Upload video, images, or file data with encrypted, authenticated data pipelines and simple RESTful and SFTP APIs.

Mobile Ready
Mobile ready, responsive design means you can use Workpad on any phone, tablet, laptop or desktop to upload, download, report, or share data. No apps or software are required, just open your browser for instant access. Unlike other IoT platforms, Workpad is ready to use out-of-the-box. No code to write, no hardware to configure, just login and go from any location.

Automate Video and Image Collection
Use the NubitusŪ USB memory stick from Amotus.ca to automatically upload files from your USB or SD-card enabled inspection devices to the Workpad cloud. Compatible with most video, ultrasonic, and radiographic testing devices, the Nubitus memory stick automatically uploads your data and associates it with your pre-selected assets.

Video and Large File Management
Upload video, image, spreadsheet, csv, or any file from the browser on your desktop, tablet, phone, or automate uploads with our USB and SD Card hardware interfaces. Videos are automatically transcoded into streaming format and stored on a global, high-performance content delivery network allowing anyone to download only the parts of the video they need to see.

Secure Sharing
Workpad was designed for easy, secure collaboration with internal and external stakeholders. Consumer-grade sharing platforms are not equipped to deliver relevant information from the large-volume, high-resolution data produced by a team of inspectors. Workpad delivers lightweight mobile viewers, granular security, and the ability to follow an inspection in real-time.

Interactive Reporting
Share interactive, templated reports with your customers where they can stream high resolution video and image data, download files, and collaborate with the team through comments and annotations. One-click PDF export of professional-looking reports allows inclusion with email and print communication.

Powerful Scheduling
Schedule employees with a full-featured calendaring system with overlap detection, certification auditing, and Google calendar synchronization. Track certification type and expiration for all employees and ensure scheduled inspections are assigned to the right personnel. Contact us about custom integration options with CRM and Project Management systems.

Customizable Platform
Build your own custom applications on top of our state-of-the-art RESTful API, integrate Workpad features inside your existing applications, or extend Workpad to meet your specific requirements. Workpad is a scalable, test-driven, monitored, and continuously-deployed platform that allows delivery of custom solutions in days, not months. Contact us about dedicated hardware, private cloud, and on-premise deployment.

Call us today at (888) 278-8804 to get your application quote today!