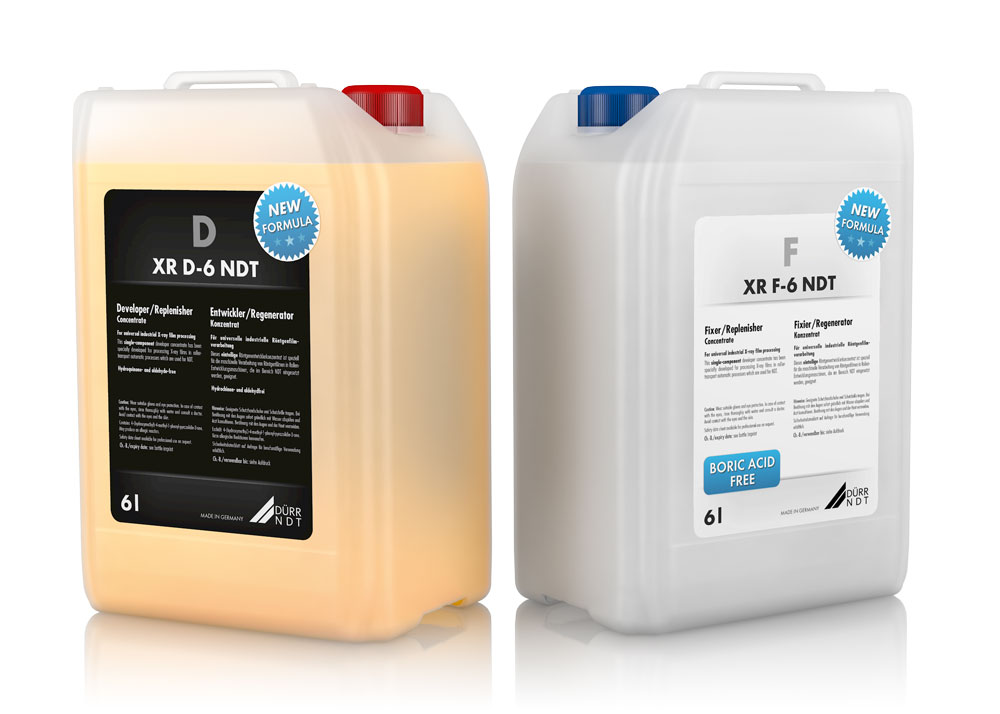 Green X-ray Film Processing Chemicals
Company: DÜRR NDT
Address1: Hoepfigheimer Str. 22
City: 74321 Bietigheim-Bissingen
Country: Germany
Phone: +49 7142993810
Free of all toxic and cancer-causing materials, proven in oil & gas, aerospace, nuclear and military applications. 80 % less cleaning and low consumption. BAM certified for all common X-ray films. Free of warning labels, offshore use possible.
- BAM certified in accordance with standards DIN EN ISO 11699-1:2012 and ASTM E1815-08 on pre-exposed test film strips for Agfa, Carestream and Foma films. - REACH complaint, contains no boric acid, hydroquinone or aldehyde. - Stunning results, whether you process your films manually or automatically.
- 80 % less cleaning, save cleaning costs and minimize downtime. - Low consumption. - One-part concentrates, no starter or other additives are necessary. - Offshore use possible. - Long shelf life, developer and fixer remain usable for at least 24 months. - Secure archiving. - Odorless, pleasant to use with no offensive smells.