The NDT.org Product and Service Directory is a nondestructive testing and inspection product showcase viewed by thousands of NDT professionals every day, and will give your company qualified leads for inspection products and services.
Looking for used equipment? Click here to go to the classifieds.
Orion II Video Borescope from Medit Inc
This light weight and portable videoscope is built to work with a wide range of videoprobes. These probes range in from 10mm to 4mm in diameter, with varying lengths and feilds of view, and all come with built in CMOS Camera Chips, and are water, oil, diesel and gasoline proof. 4 LED lights...
ISeries Articulating Video Borescope from Medit Inc
This heavy duty 2 and 4 way articulating borescope is equipped with a water/oil/kerosene and aviation fuel proof, tungsten steel braided probe. The Sony CCD camera is built into the camera head along with bright ,etal halide light source for a crisp, high resulotion, well lit image, that is ...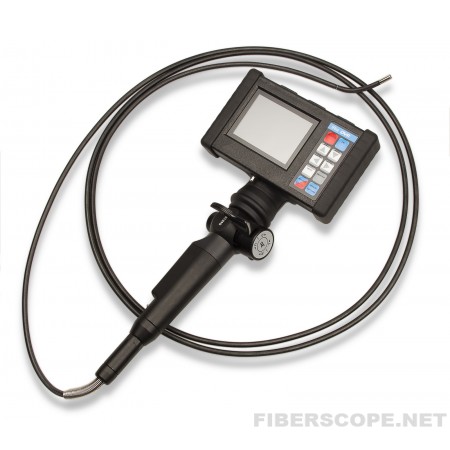 Iris Proline portable Video Borescope from Medit Inc
The Iris Proline Videoscope is made with tungsten braided probe, that comes in a diameters of ō 4mm (0.16"), 6mm (0.24"), or 8mm (0.32"). This unit also features 4 way tip articulation, and lengths from 1.5m to 7.5m. This probe is connected to a 8.9cm high resolution VGA display monitor, tha...
JT-ALPHA Joystick Type Video Borescope from Medit Inc
The JT-Alpha features 4.5mm and 6.0 diameter probes with 4 way 90 degree tip articulation allowing a full 360 degree rotation for veiwing or to help navigate corners. Stainless steel probe comes in 1.5m, and 3m lengths. The camera head is equipped with a CMOS camera chip and high intens...
Cyclops Zoom Camera from Medit Inc
Cyclops is a water proof portable inspection camera designed for inspecting manholes, tanks, pipes lines, and other remote areas the camera would need to be lowered into. The built in CCD camera has a powerful zoom feature to allow visualization of areas up to 60m away from the camera, and d...
Trogoloprobe Portable Inspection System from Medit Inc
The rugged Trogoloprobe is built for industrial pipe inspections, and this push camera features a high end CCTV camera at the end of a 60m push cable, with the option for 20m extension. This unit weights in at 18.5kg, and has a battery life of up to 8 hours on a single charge. This push came...
45MG Ultrasonic Thickness Gage from Olympus NDT
The 45MG is an advanced ultrasonic thickness gage packed with standard measurement features and software options. This unique instrument is compatible with the complete range of Olympus dual element and single element thickness gage transducers, making this innovative instrument an all- in-on...
Python Push Camera from Medit Inc
The Python Push camera is the largest of our economical push cameras. Built to withstand the vigorís of inspecting sewers, water pipes, duct works, wells, tanks, boilers and power plants to name a few applications. The high resolution CCD camera chip is built in a self leveling head that ...
Anaconda Pan and Tilt Push Camera Videoscope from Medit Inc
The Anaconda Pan-and-Tilt Push Camera Videoscope is a very useful tool and a must have for the inspection of pipes, ducts, tanks and many more applications. The Anaconda comes with a camera head which pans 360⁰ and tilts 180⁰ to records and document all the details of areas be...
PRX 250 Gas Main Camera from ULC Robotics
ULC Robotics' new 3rd generation PRX250 Gas Camera system is a unique internal inspection device designed for visual assessment of live gas mains through conventional small pits or low-cost keyholes. The system is suitable for internal inspection of 4 to 12 inch cast iron, steel and PE mains a...