The NDT.org Product and Service Directory is a nondestructive testing and inspection product showcase viewed by thousands of NDT professionals every day, and will give your company qualified leads for inspection products and services.
Looking for used equipment? Click here to go to the classifieds.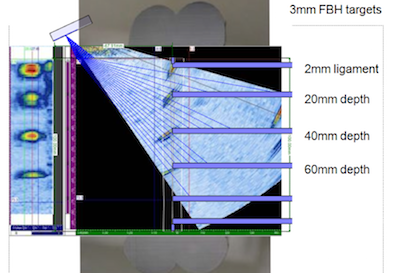 Polymer Dry Couplant Materials from Innovation Polymers
Our focus is on highly effective sound transfer through the development of acoustic-capable polymers. These new polymers enable coupling of the ultrasonic sensor to the material under test and provides a layer to couple, seal or optimize energy transfer. Our mission is to develop and produce high...
DIO1000PA Phased Array Flaw Detector from Starmans Electronics Ltd.
The new advanced DEFECTOBOOK® DIO 1000 PA digital ultrasonic flaw detector is now includes phased array imaging capabilities. It combines all features of conventional ultrasonic with power of phased array. Using the latest generation of electronic components and microprocessors we have brought to...
Mark 4 Tank Floor Scanner from MFE Enterprises
The Mark IV takes the precision, reliability, and durability of its predecessors to another level with upgraded, user-friendly software and a lightweight build. Its slim design boasts an unprecedented weight of only 65 lb. The convenience of using the new Mark IV will be outweighed only by the ...
Video Borescope with 2.4mm Articulating Tip from Fiberscope.net by MEDIT
The New X-LED PRO digital borescopes are professional devices, with micro diameter camera heads, 2- or 4-way tip movement, clear high resolution images, multiple connection options, and quick and economic repairs. These units are designed to offer great value with a perfect price to performance rati...
Pipe Inspection Camera TRITON M7 from Fiberscope.net by MEDIT
Portable Pipe Inspection Camera for Industrial and Residential Applications....
DELTA Element from Olympus Scientific Solutions
DELTA® Element Handheld XRF Analyzer The DELTA Element analyzer is our entry-level handheld XRF, built for economy and a fast return on investment for basic alloy identification and metals analysis in applications including scrap metal sorting, positive material identification (PMI), alloy QA/QC, a...
DELTA Professional from Olympus Scientific Solutions
DELTA® Professional Handheld XRF Analyzer The DELTA Professional XRF analyzer provides a good combination of speed, limits of detection, and elemental range. It can analyze Mg and higher for the alloy and mining industries. ...
Vanta from Olympus Scientific Solutions
Vanta™ handheld XRF analyzers provide fast, accurate element analysis and alloy identification to customers who demand laboratory-quality results in the field. Vanta analyzers combine ruggedness with advanced technology. The analyzers are IP65 or IP64 rated for protection against rain and dust and a...
ROV Mountable Ultrasonic Thickness Gages from Cygnus Instruments Inc
CYGNUS MINI ROV MOUNTABLE MULTIPLE ECHO ULTRASONIC THICKNESS GAGE Cygnus Mini ROV Mountable is pressure tested to 1,500 ft and designed to be mounted onto small observation ROVs with or without a manipulator facility. Designed in conjunction with VideoRay, the Cygnus Mini ROV Mountable will allow...
Underwater Ultrasonic Thickness Gages from Cygnus Instruments Inc
DIVER WRIST-MOUNTABLE ULTRASONIC THICKNESS GAGE WITH A-SCAN DISPLAY - CYGNUS DIVE MULTI-MODE ULTRASONIC THICKNESS GAUGE The Cygnus DIVE Multi-Mode Ultrasonic Thickness Gage has a large, bright color AMOLED display for easy viewing from all angles, by the diver and his camera, even in poor visibil...